Aphasia Awareness Day 28th June and the II. Virtual Aphasia Conference
Spanish nonprofit aphasia associations
together organize the II. Virtual Aphasia Conference in Spanish language.
The date is June 27th and Monday 28th, concurring with the anniversary of birth of Paul Broca, one of the pioneers in the study of this language disorder.
Participation is free, you can register here: https://us02web.zoom.us/meeting/register/tZIqcO-qpjsoGdFzDnhbOuemQt5Yxox6lnwT
The conference is held online, via ZOOM.
You can download ZOOM on your computer, it's free: https://zoom.us/download
Conference program
During the conference, you will have a chance to watch a short film 'Hablar es Improvisar', and also videos of the I. Virtual Aphasia Conference which took place last year, with more than 500 participants across Hispanic countries and high impact among professionals and persons with aphasia.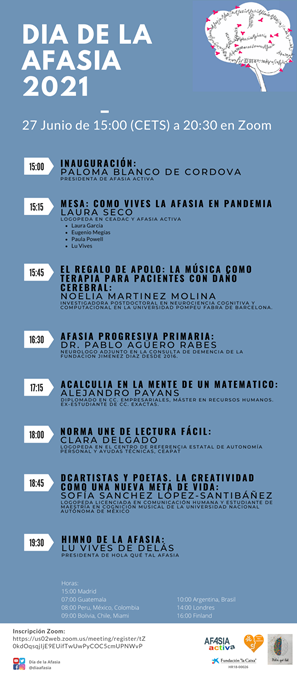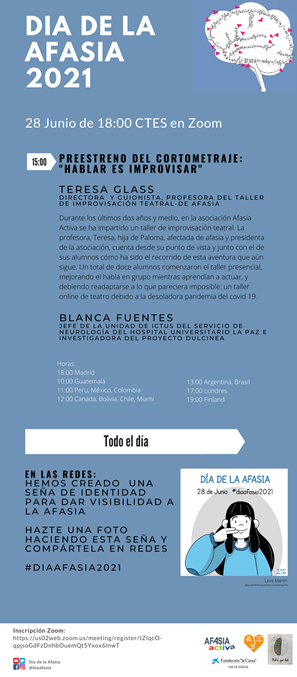 Spread the word
Please read the message of the organizers:
Let´s give words to those who have lost them celebrating this day that we have pointed out and that we wish to become the Day of Aphasia in the whole world in a future. Because united is how higher we will be heard. We need to make impact on the society about the reality of aphasia, which is still so unknown.
Follow the Spanish Aphasia Group on social networks to know more: @diaafasia
Have a look at the Youtube Channel of María Luisa, Spanish stroke survivor:
Hola Que Tal – Afasia
www.youtube.com/c/holaquetalafasialuvives
Please feel free to download the Aphasia Day poster to disseminate among your friends or associations:
Click here to download the poster!
Latest update: 11th June 2021